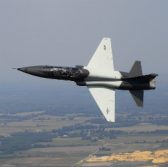 Sierra Nevada Corp. and Turkish Aerospace Industries have developed a trainer aircraft in order to compete for the U.S. Air Force's T-X program that seeks to replace the T-38 jet, Quwa reported Monday.
Bilal Khan writes SNC and TAI established a Colorado-based subsidiary, Freedom Aircraft Ventures, to offer the Freedom Trainer aircraft.
The Freedom Trainer jet will be equipped with two Williams International-built FJ44-4M turbofan engines and a fly-by-wire digital flight control platform as well as meet the program's high angle-of-attack maneuverability requirements, Khan reports.
SNC and TAI also plan to offer their proposed trainer aircraft to other countries such as Turkey and Australia and expect the global market for such planes to require more than 1,200 trainer jets, according to the report.
The Air Force on Friday released a request for proposals for the potential $16.3 billion T-X program that covers engineering and manufacturing development, low-rate initial production and full-rate production of new trainer jets as well as contract options to produce a total of 350Â aircraft.
Other industry teams that plan to compete for the T-X program include:
A consortium of Raytheon, Leonardo, CAE and Honeywell
A consortium of Northrop Grumman, BAE Systems, L-3 Communications and Rolls-Royce
Boeing and Saab
General Dynamics and Alenia Aermacchi
Lockheed Martin and Korea Aerospace Industries
Textron and AirLand Enterprises
This story was originally published on January 4, 2017.