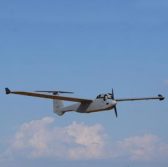 A PAE–American Operations Corp.–Battlespace Flight Services joint venture demonstrated an unmanned aircraft system equipped with Sagetech-built transponder during a civil airspace flight operation.
Sagetech said Tuesday its XPC-TR-50 Mode C transponder was integrated into PAE ISR's Resolute Eagle vehicle for the flight that occurred at the Pan-Pacific UAS Test Range in Pendleton, Oregon.
Resolute Eagle can operate through an Certificate of Waiver or Authorization issued by the Federal Aviation Administration.
Kelvin Scribner, Sagetech CEO, said the company's technology has been used in small UAS military operations over the past 15 years and PAE ISR's recent flight demonstration "marks another step as our products transition from military to civil use."
The XPC-TR-50 transponder worked to help the Resolute Eagle UAS operate in civil airspace with manned aircraft.
PAE ISR also designed the fixed-wing aircraft for use in military airspace, Sagetech noted.