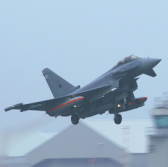 Germany"™s defense ministry said it considers the Eurofighter Typhoon aircraft as its primary option to replace its fleet of 85 Tornado fighter jets by 2025, Reuters reported Tuesday.
The European country"™s parliament would need to approve the procurement of new fighter jets over the next two years with a plan to have the contract signed by 2021 to facilitate deliveries by 2025.
The Eurofighter Typhoon is a joint project of BAE Systems, Airbus and Leonardo, formerly known as Finmeccanica.
The ministry"™s statement appears to be at odds with the German air force"™s statement in November that it prefers the Lockheed Martin-built F-35 fighter jet as a potential Tornado aircraft replacement.
The ministry said that F-35 and Boeing"™s F-18 and F-15 jets were the country"™s secondary choices for the Tornado replacement program, the report added.