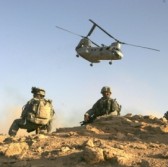 Australia's military purchased approximately $7.8 billion worth of military weapons and equipment through the U.S. government's foreign military sales program in the past four years, Australia's ABC News reported Thursday.
Data was based from government contracts reviewed by the Australian national audit office between the 2012 to 2013 and 2016 to 2017 periods.
The Australian government spent about $390 million of the FMS purchases on information technology, broadcasting, telecommunication, engineering, research and technology-related acquisition.
Earlier this year, Australia obtained approval from the State Department to buy GBU-53/B small diameter bombs under an $815 million deal as well as acquire upgrade services for the MH-60R multi-mission helicopters through a $360 million FMS agreement.