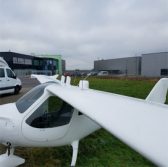 Pentagon Performance Inc. has received a notification of consideration for a potential $50 million contract from the United Nations to provide intelligence, surveillance and reconnaissance services to the UN's peacekeeping effort in the Republic of Congo.
PPI seeks to deploy its SureCam medium-altitude, long-endurance unmanned aircraft system to help address surveillance and detection requirements of UN MONUSCO operations, the Delaware River and Bay Authority said Thursday.
MONUSCO aims to support Congo's government in stabilization and peace consolidation efforts through the use of military resources.
The company submitted its bid proposal to the intergovernmental organization's procurement agency in October last year and subsequently completed a competitive evaluation process, after which the company was selected by the UN Headquarters Committee on Contracts as the winner.
PPI has selected Millville Airport in New Jersey as its base of operations for contract work.
Thomas Cook, executive director of the Delaware River and Bay Authority, said he expects the selection of PPI for the contract to open up more than 20 technical and administrative positions in Millville.