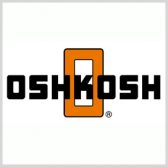 An Oshkosh subsidiary has received a potential $40 million U.S. Army order to provide recapitalization services for 90 vehicles within the Army Reserves Family of Heavy Tactical Vehicles fleet.
Oshkosh Defense will update Heavy Expanded Mobility Tactical Trucks to the latest HEMTT A4 configuration under the order from the U.S. Army Tank-Automotive and Armaments Command, the company said Tuesday.
"Recapitalized vehicles are assembled on the same production line as new vehicles, and put through the same extensive performance tests and inspection procedures as new vehicles," said Pat Williams, vice president and general manager of Army and Marine Corps programs at Oshkosh Defense.
HEMTTs are eight-wheel-drive tactical trucks designed to accommodate payload of up to 13 tons and support the Army's logistics transport operations.
Oshkosh Defense is scheduled to begin delivery of recapitalized vehicles to the service branch in fiscal 2019.