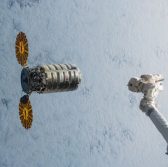 An Orbital ATK-built Cygnus spacecraft re-entered Earth's atmosphere Monday at 7:54 a.m. Eastern time after it delivered approximately 7,400 pounds of cargo to the International Space Station and completed secondary space missions.
The re-entry of the spacecraft, also known as S. S. Gene Cernan, marked the conclusion of Orbital ATK's eighth ISS cargo supply mission under its Commercial Resupply Services contract with NASA, the company said Monday.
Orbital ATK launched Cygnus Nov. 12 at NASA's Wallops Flight Facility in Virginia aboard the company's Antares rocket.
Cygnus reached the space station Dec. 6 and remained attached to the station for 22 days to support science experiments inside the cargo module.
The space vehicle carried 6,400 pounds of trash and launched 14 cubesats into orbit using a NanoRacks deployer after leaving ISS.