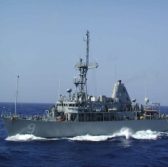 A Navantia-led industry team has submitted its proposal for the Canadian Surface Combatant program to build up to 15 frigates that will replace Canada's Iroquois-class destroyers and Halifax-class frigates.
The team includes Saab Group's Australian arm as the combat systems integrator and CEA Technologies as the provider of key elements of the proposed ship, Navantia said Thursday.
The group's proposed design is based on the F-105 frigate that Navantia, a Spanish state-owned company, built for Spain's navy.
The anti-submarine warfare ship will feature Saab's 9LV combat management systems and CEA Technologies' radar platforms.
Saab will work with suppliers including Lockheed Martin, General Dynamics' mission systems business unit and Leonardo's DRS Technologies subsidiary under the proposed effort.
If selected, the Navantia team will engage more than 50 Canadian companies and create approximately 1,000 long-term jobs in the country.
The group will also perform a full technology transfer of Navantia's design and Saab's 9LV CMS to Canada under the CSC program.