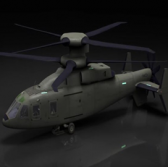 Lockheed Martin has released a new video that shows the concept for the future vertical lift helicopter based on the X2 demonstrator, New Atlas reported Thursday.
David Szondy writes Lockheed's Sikorsky subsidiary partnered with Boeing to develop the helicopter concept that comes in attack and assault variants.
The proposed vertical lift aircraft has fly-by-wire flight controls, co-axial rotor platform and vibration control functions for noise reduction and is designed to fly 288 miles per hour at a temperature of 92 degrees Fahrenheit and at an altitude of 6,000 feet.
The helicopter is built to transport four crew members, eight medivac pallets and 12 troops and is designed to perform aerial refueling operations, the report added.
This story was originally published on April 17, 2017.