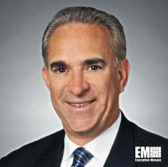 Lockheed Martin plans to integrate a system invariant analysis technology from NEC into the Bethesda, Maryland-based company's space programs.
SIAT is designed to analyze the behavior of computer and building systems with sensor data and automatically identify inconsistencies to help operators implement corrective actions, NEC said Thursday.
The partnership also seeks to incorporate NEC's artificial intelligence platforms and Lockheed's space expertise in efforts to establish spacecraft and satellite operations that will employ prescriptive analytics.
Carl Marchetto, vice president of new ventures at Lockheed's space business segment, said the partnership aims to explore the potential use of AI to update technology platforms for astronauts and operators on the ground.
"AI can revolutionize how we use information from space, both in orbit and on deep space missions, including crewed missions to Mars and beyond," Marchetto added.
NEC noted its technology will work to help operators assess changes in the performance of space-based technology and the potential impact of space weather on electronics.