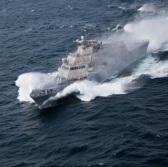 Lockheed Martin has chosen OSI Maritime Systems to produce a navigation management system for use on the U.S. Navy's future Freedom-variant Littoral Combat Ships, for which Lockheed is the prime contractor.
OSI said Wednesday it will provide the Integrated Bridge and Navigation System that is designed to integrate with warships and comply with the American Bureau of Shipping Class Rules for Navigational Integrated Bridge System.
Chris Haugen, director of business development director at OSI, said the company's IBNS will work to help the service branch's bridge team obtain an integrated view of ship navigation and operations.
Haugen added the system works to support tactical features designed for the commanding officer to address demanding missions.
IBNS will consist of a warship electronic chart display and information system, a surface search radar display, track planning and automatic track following systems, speed control technology, integrated navigation information displays and a bridge alarm management tool.
Ken Kirkpatrick, OSI president and CEO, said the LCS program represents the company's first foray into the U.S. naval market.