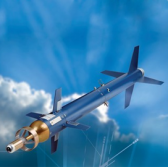 Lockheed Martin has signed a five-year deal to produce up to 3,000 Enhanced Laser Guided Training Rounds for NATO member countries per year.
The company said Tuesday it will deliver the ELGTRs through 2021 under the follow-on agreement with the NATO Support and Procurement Agency.
Jason Golden, ELGTR program manager at Lockheed's missiles and fire control business, said the technology is designed to support live-fire training of military air and ground crews with the Paveway II Laser Guided Bomb.
An ELGTR works to integrate with F-16, F/A-18, AV-8B and other aircraft platforms, the company noted.
Lockheed has provided more than 160,000 updated training rounds to U.S. and international defense customers.
The company manufactures ELGTRs, Paveway II bombs and Paragon direct attack munitions at a production facility in Archbald, Pennsylvania.