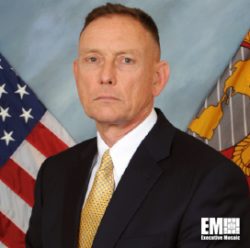 By land, air or sea, unmanned systems are a technological marvel in today's efforts in intelligence, surveillance and reconnaissance, as well as mine warfare, electronic warfare and command and control operations.
Some of the benefits to unmanned systems are reducing risk to U.S. sailors and marines, as Deputy Assistant Secretary of the Navy (DASN) for Unmanned Systems (UxS) and retired U.S. Marine Corps Brig. Gen. Frank Kelley commented at the Anti-Submarine Warfare Continuous Trail Unmanned Vessel (ACTUV) workshop held earlier this year at the Naval Postgraduate School in Monterey, Calif.
Kelley, in a supervisory role serving as principal advisor to the Assistant Secretary of the Navy (Research, Development and Acquisition) and with over 32 years of experience as a marine, clearly knows how to put the "man" in "unmanned systems."
"I think we are already seeing new missions emerge out of our study for how unmanned systems can be used," said Kelley. "Often our missions are dictated because we have a human actually on the platform, or thousands in the case of a carrier. When we are able to take the traditional missions that we have today, and do them with unmanned systems, a lot of our problems get solved."
Another aspect of UxS, Kelley notes, is the lower price per unit in strike contrast to the cost of a manned vehicle, in league with developing missions that utilize the capability of a ship that can patrol for hours on end.
"We can probably take higher risk at cheaper cost," he continued. "We can probably overcome some of the problems that physics and the environment present to us with an unmanned system–this will free up our sailors and marines to do other things."
As this technology becomes more complex and expands from the sky to the subterranean domain, Kelley and the rest of the DASN for Unmanned Systems team will have to make strides to create and re-create a working strategy for furthering the development of these systems, how challenges can be addressed and what the next steps will be to ensure American troops are locked and fully-loaded with the best gear on the market.
A 1983 graduate of the University of Notre Dame, Kelley became a EA-6B Prowler pilot and reported to Marine Tactical Electronic Warfare Squadron 2 (VMAQ-2). After occupying the seat of Electronic Warfare Branch Head at Air Test and Evaluation Squadron FIVE (VX-5) and Avionics Systems Project Officer at Naval Air Systems Command (NAVAIR), he turned his focus over to unmanned systems. Kelley joined the Marine Corps Systems Command (MCSC) as a program manager, then chief of staff and eventually rising through rank to commander in 2010, leaving the Marine Corps family in 2014.
208698