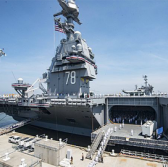 Huntington Ingalls Industries has received a $9.2 million modification under a U.S. Navy contract to plan the post-shakedown availability and selected restricted availability of the USS Gerald R. Ford supercarrier.
The Defense Department said Wednesday the company will also use a portion of contract funds to obtain materials needed for PSA/SRA work on USS Ford.
The Naval Sea Systems Command obligate $4.2 million in fiscal 2016 and 2010 shipbuilding and conversion funds at the time of modification award.
Work will take place in Newport News, Virginia, through April 2018.