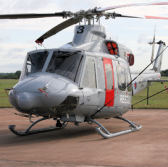 LifePort, a business unit of Lockheed Martin's Sikorsky subsidiary, has received supplemental type certification from the Federal Aviation Administration to integrate ballistic protection technology into a Bell Helicopter aircraft platform.
Lockheed said Monday the certification allows LifePort to equip Bell 412EP combat utility helicopters with the Ballistic Protection System.
BPS operators can configure the system to address ballistic threat levels, area vulnerability and mission requirements, Lockheed added.
Noah Zuckerman, general manager of LifePort, said that Bell Helicopter and Lifeport collaborated in design and certification of the protective device for Bell 412EPs.
The system is designed to comply with the National Institute of Justice's multihit ballistic protection, MIL-STD-810 Revision G and Federal Aviation Regulation 29.853 standards.
LifePort also creates standard armor configurations for Bell 412 cockpit floor, crew seats, cabin floor and crew side wall areas.