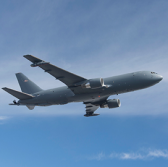 Boeing has obtained an amended type certificate from the Federal Aviation Administration for the 767-2C airframe configuration of company-built KC-46 military tanker aircraft.
The company said Thursday it conducted a series of analyses and laboratory, ground and flight tests to verify the performance of KC-46 components that include avionics, fuel system and auto-flight and environmental control systems.
767-2C is a modified version of Boeing's commercial 767 plane that features remodeled structure, wiring and plumbing.
Boeing also seeks a supplemental type certificate, the second of two FAA airworthiness certifications that the KC-46 tanker program must secure.
STC covers all military systems that are installed on 767-2C to transform it into a tanker.
The KC-46A multirole tanker is designed to refuel allied and coalition military aircraft as well as transport passengers, cargo and patients.
Boeing is contracted to produce 34 KC-46As for the U.S. Air Force.
The service branch looks to buy a total of 179 tankers from the company throughout the program.