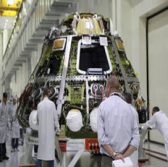 NASA has reported that EnerSys' advanced systems business and SEAKR Engineering respectively manufacture lithium-ion batteries and space-qualified electronics for the Orion spacecraft.
EnerSys and SEAKR are two of the 250 businesses that operate in Colorado and support the agency's deep-space exploration programs, NASA said Tuesday.
Lockheed Martin is building the Orion crew vehicle as the program's prime contractor.
EnerSys' Longmont facility manufactures batteries that will be used to power the steering control system of the Orion's launch abort system as well as the Space Launch System's core and exploration upper stages.
SEAKR produces vision processing unit and other electronic components for the spacecraft's back-up flight computer, and processes imagery data at the company's Centennial facility.
NASA aims to launch Orion and SLS as part of an integrated unmanned flight test known as Exploration Mission-1.