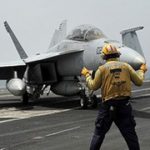 The U.S. Navy has awarded a $49.1 million contract to Boeing and a $52.4 million contract to Nordam Group for repair work on outer wing panels of the service branch's F/A-18 A-D series aircraft.
The Defense Department said Wednesday the Naval Supply Systems Command Weapon Systems Support will obligate $25.8 million in fiscal 2018 working capital funds at the time of award of the indefinite-delivery/indefinite-quantity contracts.
Work will occur in Jacksonville, Florida and Tulsa, Oklahoma through December 2022.
F/A-18 multirole fighter aircraft support various Navy missions that include air superiority, day and night strike, close air support, fighter escort, maritime strike, suppression of enemy air defenses, reconnaissance, forward air control and tanker missions.