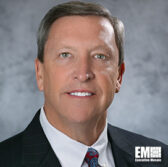 Bob Fortna, president of Fortinet"™s federal business, has said the company offers security platforms designed to help customer agencies address mission requirements and challenges associated with information technology modernization efforts.
Fortna said in an interview published Monday that Fortinet Federal's portfolio of security tools for agencies features the Fortinet Security Fabric as a "foundational element."
The Fortinet Security Fabric is an architectural approach that works to link security components into a unified platform, adapt to security and performance requirements of federal agencies and critical infrastructures and automate policy enforcement to facilitate compliance with regulations, he noted.
He discussed how the company helps agencies comply with the Department of Homeland Security"™s Binding Operational Directive 18-01 through the Fortinet Secure Email Gateway and the inclusion of Fortinet"™s security tools in the approved components list of the National Security Agency"™s Commercial Solutions for Classified program.
Fortna also mentioned Fortinet Federal"™s participation in DHS"™ Continuous Diagnostics and Mitigation and General Services Administration"™s Enterprise Infrastructure Solutions programs.