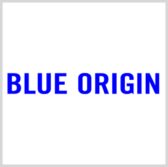 Blue Origin has conducted the first flight test of a new spacecraft that took off aboard the New Shepard reusable suborbital vehicle at its launch site in west Texas, Digital Journal reported Wednesday.
The unmanned Crew Capsule 2.0 lifted off Tuesday aboard the New Shepard booster and flew for at least 10 minutes at an altitude of more than 322,000 feet.
The New Shepard rocket restarted its BE-3 engine to facilitate its return to Earth and perform a controlled touchdown on a landing pad.
The crew capsule during the test flight carried 12 research, commercial and education payloads and a test dummy – Mannequin Skywalker "" designed to collect flight telemetry data.
Blue Origin hopes to use its crew capsule to transport astronauts to space by early 2019, the report added.