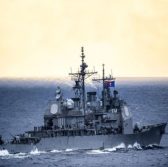 A business unit of BAE Systems has received a potential $53.1 million contract to modernize a Ticonderoga-class guided missile cruiser of the U.S. Navy at a shipyard in Norfolk, Virginia.
The company said Wednesday USS Anzio (CG 68) modernization efforts will run for six months and cover ship alterations, miscellaneous repairs and critical aluminum structures replacement.
BAE's Norfolk Ship Repair business is scheduled to conduct work from February to August next year.
The contract has an initial value of $45.3 million and options worth nearly $7.8 million.
Commissioned in May 1992, USS Anzio is the third East Coast-based cruiser to be upgraded under the Navy's long-term cruiser modernization program.
BAE noted it currently performs upgrades onboard the USS Gettysburg (CG 64) USS Vicksburg (CG 69) and USS Cowpens (CG 63).