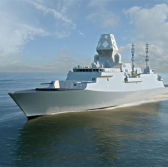 BAE Systems has teamed up with original equipment manufacturers of power and propulsion systems to establish a team that will aim to support Australia's naval programs and shipbuilding efforts.
P&P team members will work together to provide expertise and capacities for Australia's defense industry as well as help address the country's requirements for power and propulsion products and services, BAE said Thursday.
L3 Technologies, Rolls Royce, David Brown Santasalo, Naval Group and MTU/Penske signed up for the new industry team.
Nigel Stewart, managing director of BAE's SEA 5000 program, said the group aims to develop technologies, sustain and create manufacturing jobs in Australia as well as hone the local workforce's skills for the global market.
The alliance will also look to open hundreds of career opportunities, transfer technology and intellectual property, collaborate with Australia's academia and evaluate the potential establishment of physical, onshore test and integration facilities in the country.