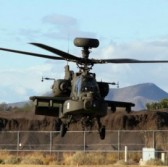 Lockheed Martin has received a $64.9 million contract modification from the U.S. Army to continue logistics support work on electro-optical sensors designed to help increase Apache helicopter pilots' situational awareness.
The Defense Department said Tuesday the modification extends Lockheed's performance-based logistics services to the Modernized Target Acquisition Designation Sight/Pilot Night Vision Sensors program through Dec. 31, 2018.
The Army obligated the full amount of the modification from the service branch's fiscal 2018 working capital funds.
M-TADS/PNVS functions as a fire control system and works to facilitate targeting and pilotage for Apache aircrew.