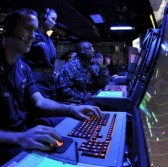 Antech Systems has secured a potential $48.6 million U.S. Navy contract to provide technical, engineering and training support to command, control, communications, computers and intelligence operations of the Naval Air Warfare Center's aircraft division.
The Defense Department said Wednesday the company will help NAWCAD design and develop in-service products, estimate and schedule projects, implement policies and analyze data processes under the indefinite-delivery/indefinite-quantity contract.
Work runs through March 2023 and also covers support for standards-based operations and maintenance data archives, safety improvement tools, standards compliance, performance aids and product tools.
NAWCAD received one offer for the contract that was competitively solicited through an electronic request for proposal.
Chesapeake, Virginia-based Antech develops software applications and tools designed to support system maintenance; data authoring, processing and publishing and simulation and interactive game-based training.