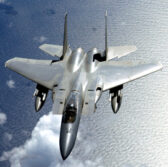 A team led by Alion Science and Technology has received a potential $40.9 million contract from the U.S. Air Force to help the service branch address life-limiting issues on the C-130, C-5, C-17 and F-15 aircraft fleets.
The 58-month contract covers requirements evaluation, planning, logistics, engineering, testing, prototyping and data management support for the Air Force's 409th Supply Chain Management Engineering Office, Alion said Thursday.
Jeremy Trotter, technical director of Alion"™s manufacturing systems and operations division, said the company seeks to continue and expand its efforts to help increase the service branch's fleet reliability and maintainability challenges.
Team members include BAE Systems, Raytheon, National Technical Systems and the Southern Research Institute.
Alion will provide program management, engineering support and an analysis of aircraft life-limiting issues as the team lead.