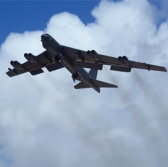 The U.S. Air Force outlined its options for the replacement of the B-52 Stratofortress bomber aircraft's engine during an industry day held Dec. 12, Defense News reported Friday.
The report said USAF seeks new engines instead of refurbished systems and plans to maintain an eight-engine configuration on the fleet of 76 B-52s.
Potential engine integrators must be able to install the new engines without significantly modifying the B-52's wings, but the Air Force expects to implement some structural design changes, according to the report.
USAF also wants a new power architecture designed to accommodate multiple power generators as well as digital engine control wiring.
The service branch could acquire the new engine by awarding a contract to an integrator that will select the engine; issuing separate contracts to the engine integrator and engine manufacturer; or choosing an integrator that will be required to partner with potential engine providers.