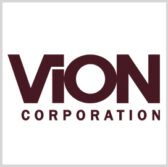 The Department of Homeland Security has selected ViON to deploy a data storage and disaster recovery platform to DHS' National Protection and Programs Directorate.
ViON said Thursday it will supply the company-built DataAdapt platform to add compute and processing power to systems that support NPPD data analytics tools.
DataAdapt will work to help NPPD move its existing data to a storage structure and lessen the level of effort needed to backup data, ViON added.
NPPD aims to increase information sharing between government and industry partners as part of efforts to help secure U.S. cyber and physical infrastructure assets.