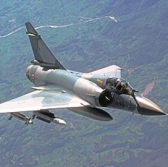 United Arab Emirates' military has announced plans to award a Thales–Dassault Aviation team a contract to modernize its Mirage 2000-9 multirole combat aircraft.
Thales said Wednesday it aims to support Mirage 2000-9 upgrade efforts through the supply of new mission computer, fire control radar, electronic warfare suite, optronics, communications navigation, identification, cockpit display, helmet mounted display and electrical systems.
UAE armed forces want to upgrade their Mirage 2000-9 fleet to address airmen's tactical survivability, information management and operational requirements.
Patrice Caine, chairman and CEO of Thales said the company has supported the UAE military over the past 45 years.