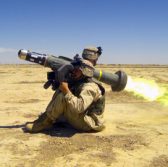 The State Department has approved a potential $75 million foreign military sale of Javelin missile systems and command launch units to Georgia.
Georgia requested to buy 410 Javelin missiles, 72 Javelin command launch units, 10 basic skills trainers, 70 simulated rounds as well as government and contractor technical assistance, transportation, logistics and program support services, the Defense Security Cooperation Agency said Monday.
DSCA noted that a joint venture between Raytheon and Lockheed Martin will serve as the prime contractor on the proposed sale.
The agency added that the missiles will come from U.S. Army stock while CLUs from on-hand Special Defense Acquisition Fund-purchased stock.
Georgia wants to implement the Javelin platform as part of efforts to address the country's national defense requirements.