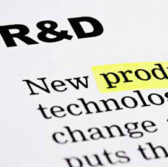 A study by PwC's consulting arm shows that U.S. aerospace and defense companies' spending on research and development efforts has climbed by nearly $12 billion so far this year, Defense News reported Wednesday.
The Global Innovation 1000 study conducted by Strategy& has found that top U.S.-based A&D firms recorded $11.79 billion in R&D spending, a figure that is $2.31 billion more than that of their international counterparts.
Boeing posted $4.63 billion in R&D spending and landed the top spot when it comes to R&D spending by U.S.-based A&D firms, followed by United Technologies Corp. at $2.34 billion and Lockheed Martin at $990 million.
France-based Airbus ranked first in R&D spending among foreign A&D companies with $3.36 billion, followed by Italy-based Leonardo at $1.45 billion and Rolls-Royce at $1.13 billion.
The study is based on the analysis of R&D spending at 1,000 global public companies as of June 30.