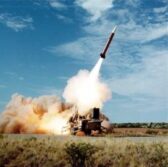 Raytheon-built Patriot missile defense systems based in Saudi Arabia have intercepted more than 100 tactical ballistic missiles since the conflict with Yemen's Houthi group began in 2015, Defense News reported Tuesday.
Raytheon executives said at the Dubai Air Show that more than 90 intercepts of Yemen-launched missiles were carried out using the company's PAC-2 Guided Enhanced Missile-T weapons.
Saudi Arabia uses Raytheon's PAC-2 missiles as well as Lockheed Martin-built PAC-3 hit-to-kill interceptors.
In July 2015, the U.S. government approved a potential $5.4 billion sale of 600 PAC-3 missiles and associated support equipment to Saudi Arabia.
The Middle Eastern country also gained approval in October to buy Lockheed-made Terminal High Altitude Area Defense missiles, launchers and associated equipment under a potential $15 billion deal.