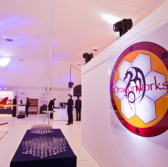 QinetiQ has opened a center of excellence at the company's headquarters in  Farnborough, England, to facilitate development and test of high-energy lasers.
The Dragonworks CoE is built to serve as a testing platform for military and commercial laser technology platforms, the company said Friday.
The facility includes a clean-room wherein personnel can work on sensitive optical equipment and offers access to the Reflective Hazard Assessment Tool for users to examine how laser energy reflects from different surfaces.
Steve Wadey, QinetiQ CEO, said the company established the facility in a push to help customers understand opportunities and challenges associated with high-energy laser technology.
QinetiQ intends to use Dragonworks to build a laser source for the Laser Directed Energy Weapon Capability Demonstrator being developed by an MBDA-led industry team under a contract with the U.K.'s defense ministry.
The Dragonfire Consortium will assemble and test LDEW at the Dragonworks facility through summer 2018, then transport the system to MOD Shoeburyness installation in Essex.
The team's members are QinetiQ, BAE Systems, Leonardo, GKN, Arke and Marshall ADG.
More than 50 QinetiQ engineers and scientists currently provide expertise to Dragonworks and related projects, the company noted.
The facility will be equipped with additional laser testing tools in the coming months.