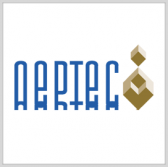 Neptec Design Group has received a potential $15 million contract from the U.S. Navy to develop a light detection and ranging pose sensor technology.
The Defense Department said Tuesday the contract has an initial value of $13.7 million and will reach its full potential value if the service branch exercises a 29-month option.
Work will occur in Ontario, Canada through April 20, 2020.
The Naval Research Laboratory competitively sourced the award and obligated $1 million in fiscal 2017 research, development, test and evaluation funds.
Neptec produces LiDAR systems, infrared cameras and metrology instruments designed for space exploration missions.