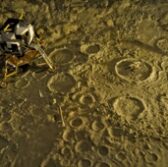 NASA has extended its partnership agreements with Astrobotic Technology, Masten Space Systems and Moon Express to further develop technologies designed to transport payload cargo to the moon's surface.
The space agency said Tuesday it amended the original Space Act Agreements between NASA and its three industry partners to extend the performance for work by two years.
All three companies have supported NASA's Lunar Cargo Transportation and Landing by Soft Touchdown or Lunar CATALYST initiative since 2014.
"We expect that the demand for lunar cargo delivery services will increase in the next decade, and we want to support U.S. industry efforts to meet that demand," said Jason Crusan, director of NASA"™s advanced exploration systems.
The updated agreements include additional milestones that the agency and three partner companies will use to monitor their progress toward deploying robotic landers to the moon.
NASA added its CATALYST partners collaborated with agency engineers in efforts to demonstrate lander and mission designs through simulations, engine hot-fire tests and tethered flight tests.