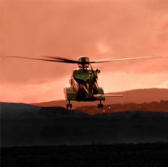 Lockheed Martin's Sikorsky subsidiary has obtained an offshore and utility type certificate from Mexico's Directorate General of Civil Aeronautics to operate S-92 medium-lift helicopters in the country.
DGAC authorized operation of all S-92 configurations for offshore oil and gas transportation, search-and-rescue, airline passenger service and VIP transportation, Lockheed said Tuesday.
"This moves us another step forward in our overall Latin America strategy," said Adam Schierholz, vice president of Sikorsky's Latin American arm.
The certification was the result of Sikorsky's three-year effort to introduce the S-92 platform in Mexico.
Colombia's civil aviation authority certified the helicopter last year.