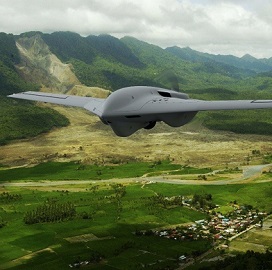 Lockheed Martin has updated the engine technology of a company-built unmanned air vehicle in an effort to increase the platform's flight endurance capacity.
The company said Wednesday it integrated a new 1803 engine into the Fury UAV and the upgrade is meant to help the aircraft operate for up to 15 continuous flight hours.
Kevin Westfall, director of Lockheed's unmanned systems business, said the company has invested money to mature its UAV technology and introduce the class 3 platform to customers globally.
Fury is equipped with a fuel propulsion system and designed for expeditionary operations.
The runway-independent UAS employs an open architecture that will work to help military customers reconfigure the system for intelligence, surveillance, reconnaissance and cyber-electronic warfare missions.
Lockheed added the platform can be set up on areas as small 200 square feet.