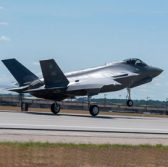 Lockheed Martin"˜s aeronautics business has received a $43.2 million contract modification from the U.S. Navy to support the standup of F-35 bases at multiple sites.
The Defense Department said Friday the modification covers labor, interim contractor support and sustainment program management services to the global fighter aircraft program.
Work will occur through January 2019 in Florida, Texas, South Carolina and California.
The award combines purchases and funds from the Navy, U.S. Air Force, U.S. Marine Corps, non-DoD participants and foreign military sales customers.
Lockheed was awarded a $559.5 million contract in July 2016 to provide non-air vehicle spares, support equipment, autonomic logistics information systems, full mission simulators and non-recurring engineering and supply chain management services for lot 10 F-35 units.