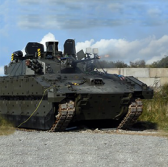 Lockheed Martin's U.K. subsidiary has completed an initial manned live-fire test of a turret system the company built for the British army's fleet of AJAX armored fighting vehicles.
The company said Monday that General Dynamics' land systems business in the U.K. helped developed the turret as the prime contractor on the AJAX program.
Initial tests involved firing on a static target from a static vehicle and subsequent tests will aim to hit a moving target from a moving vehicle, Lockheed noted.
The formal qualification trials aimed to showcase the AJAX vehicle"™s CTAI 40mm cannon and 7.62mm chain gun.
Lockheed said it will use data from manned firing tests of the turret in efforts to obtain clearance to assess the safety and suitability of the system for potential military users.
The AJAX turret is designed with features similar to an upgraded turret that Lockheed developed for the U.K. defense ministry's Warrior Capability Sustainment Program.