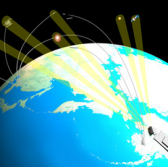 Lockheed Martin and the Missile Defense Agency have completed a critical design review of a radar system designed to protect the U.S. from ballistic missile threats.
The conclusion of CDR on Sept. 28 will pave the way for the Long Range Discrimination Radar to enter the fabrication, test and demonstration phase, Lockheed said Thursday.
LRDR is an S-band radar component of MDA"™s Ballistic Missile Defense System that has solid-state gallium nitride elements and works to provide defense equipment with acquisition, discrimination and tracking data to help counter long-range ballistic missile attacks.
Lockheed said the LRDR system"™s software and hardware components achieved level 7 in both technology and manufacturing readiness levels and that it carried out a facilities design assessment for the platform"™s shelter design in October.
The company will hold a full-and-open competition for equipment shelter construction work that is set to commence in the first half of 2019 in Clear, Alaska, and conduct a closed loop satellite track evaluation and other tests through its Solid State Radar Integration Site.
Chandra Marshall, LRDR program director at Lockheed, said the LRDR platform is on schedule to reach initial operating capability in 2020 with the completion of the CDR stage.
CDR"™s conclusion came five months after Lockheed completed the preliminary design review of the radar system and two years after the defense contractor secured a potential nine-year, $784 million contract from MDA to build, test and deploy the platform.