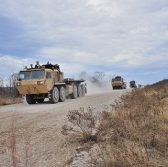 The Lockheed Martin-built Autonomous Mobility Applique System has been used to control vehicles for more than 55,000 testing miles at the U.S. Army Extended Warfighter Experiment held at Fort Leonard Wood, Missouri and Fort Bliss, Texas.
The company said Wednesday the service branch's Palletized Loading System vehicle convoys were equipped with the AMAS technology to perform autonomous driving missions during the EWE event.
The AMAS applique kit features actuators, controls and sensors that can be integrated on various military tactical wheeled vehicle and offer driver warning, driver assist and semi-autonomous leader/follower capacities designed to support safe convoy operations.
"The testing was conducted by Soldiers and Lockheed Martin personnel over several months at two major military installations in a variety of mission scenarios," said Kathryn Hasse, combat maneuver systems director at Lockheed Martin's missiles and fire control unit.
The Army Training and Doctrine Command sponsored the EWE while the Army Tank Automotive Research Development and Engineering Center managed the program's operations.