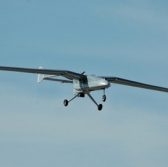 Leonardo has shipped a remotely piloted air system that will work to aid surveillance missions of an unnamed an unnamed launch client in the Middle East.
The company said Monday the Falco EVO platform completed acceptance tests at Leonardo's Italy-based design and construction facility in August.
Falco EVO is part of the company's Falco RPAS family of aircraft systems that currently support operations of five international customers.
Leonardo also teamed up with Heli Protection Europe to expand the availability of a "drones-as-a-service" offering in the civilian sector, which includes surveillance and reconnaissance services intended for police and emergency responders.