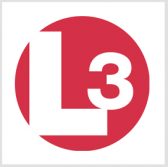 L3 Technologies has secured multiple contracts from Defense Department and space industry customers to develop free space optics technologies designed to help protect signal integrity of high-bandwidth communication systems.
The company said Tuesday its L3 Communication Systems-West business will carry out work under the FSO contracts.
"Our focus on bringing innovation to the space and near-space domains reflects our strategy of aligning with our customers' priorities in these markets to increase their efficiencies and overall mission effectiveness," said Christopher Kubasik, L3 president and chief operating officer.
Kubasik added the company's investment in FSO technologies supports previous efforts to offer data links for customers that aim to secure communications systems.
L3 CS-West develops technology platforms designed to facilitate satellite communications, intelligence collection, and imagery processing.