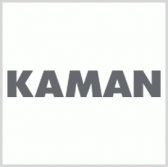 Kaman's aerospace business segment has received a potential $85 million order to supply bomb fuzes to the U.S. Air Force and 18 foreign military customers.
The Air Force issued the initial order under option 13 of the Joint Programmable Fuzes acquisition contract and the company is scheduled to deliver the JPFs over the next two years, Kaman said Tuesday.
The company has supplied JPF units to 26 international countries and has served as the Air Force's sole provider of the bomb fuze technology since 2002.
JPFs are designed to help military personnel configure the settings of a weapon system on wing in flight and operate with general purpose and guided bombs that employ Joint Direct Attack Munition or Paveway kits.
Kaman said aircraft platforms that carry JPF-equipped weapons include the F-15, F-16, F-22, F-35, A-10, B-1, B-2, B-52, Mirage 3, Gripen and the MQ-9 unmanned aerial vehicle.