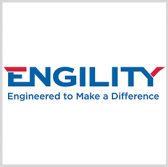 Engility has received a $20 million task order to provide maintenance and update services in support of the U.S. Navy's air traffic control systems.
The company said Wednesday that it will maintain the AN/SPN-43 radar and related ATC systems and develop modifications to extend the systems' service lifetime for the Naval Air Warfare Center Aircraft Division.
Lynn Dugle, CEO of Engility and an inductee into Executive Mosaic's Wash100, said the company will collaborate with NAWCAD's engineering and integration department to rapidly prototype, design and develop the ATC systems.
The company will conduct full lifecycle development work, including engineering, design, fabrication and system architecture, as well as install and integrate ATC system components for tests and analysis.
The task order has a one-year base period of performance and three option years and covers NAWCAD ATC systems on all aircraft carriers and amphibious assault ships.