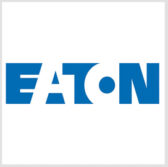 Eaton has secured a $10.7 million contract to help expand the capacity of power systems at a Defense Information Systems Agency data center in Columbus, Ohio.
The company said Tuesday it will provide electrical distribution and power quality management equipment as well as engineering services to the project slated for completion in the first half of 2018.
The project aims to expand a dual-power architecture in the Ohio-based data center for backup power systems to provide electrical capacity for uninterruptible power systems as well as establish redundant sources of power for increased mission loads.
Craig Gob, vice president and general manager of Eaton's electrical engineering services and systems division, said the company's portfolio of engineering services and power management offerings seek to increase operational efficiency of customer infrastructure.
Eaton will also supply two large generator sets for the DISA Columbus facility along with distribution switchgear, panelboards and transformers as well as two Power Xpert 9395 uninterruptible power systems.
The company secured the award via the U.S. Air Force's Power Conditioning and Continuation Interface Equipment program that offers defense organizations access to a range of power management technologies.