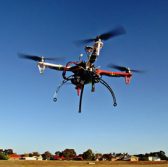 DJI has introduced a web-based service designed to help companies manage the operations of their unmanned aircraft systems using a single platform.
The FlightHub software is a monthly subscription service that works to support the management of real-time UAS operations, flight data, drone fleets and pilot teams, DJI said Nov. 7.
The service offers a live, map-based telemetry data of deployed UAS as well as a real-time view of video feeds from up to four drones.
FlightHub features web-based data management tools that sync and store flight data in a searchable database to support regulatory compliance, pilot accountability and team management.
The software is also designed to show an overview of teams and fleets and give businesses the capacity to set hierarchies for better team coordination, equipment procurement and equipment maintenance.
FlightHub is compatible with DJI's Matrice 200, Mavic Pro, Phantom 4 and Inspire 2 drone product lines.
DJI kicked off FlightHub's month-long open beta period on Wednesday and will begin to deliver the service to customers who pre-ordered after the trial run ends on Dec. 14.