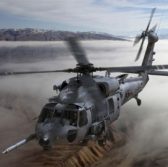 CSRA has received a $38.5 million task order from the U.S. Navy to help update various models of the H-60 Seahawk multimission helicopter.
The company said Wednesday the order was issued under the Rapid Response""Third Generation contract vehicle and includes support for Seahawk helicopters of the Navy and foreign military sales customers.
CSRA will work to design, fabricate, assemble and support the rapid prototyping and system installation of engineering change-modifications to the Seahawk aircraft.
Nick Trzcinski, vice president of CSRA's Navy and Marine Corps business area, said the Navy seeks to upgrade the Sikorsky-built helicopter with features that were unavailable during its initial deployment.
CSRA will perform work at its New Bern, North Carolina-based facility and at government locations such as Naval Base Coronado, California and Naval Station Norfolk, Virginia.