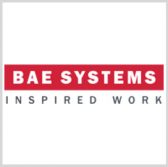 BAE Systems has secured a potential $12.8 million contract from the Defense Advanced Research Projects Agency to build a testbed for space command-and-control technologies.
The company said Tuesday it will develop a space evaluation and analysis testbed under DARPA's Hallmark program to support the development, integration, evaluation and analysis of space enterprise C2 platforms.
"The Hallmark testbed is designed to help the military quickly evaluate and integrate technologies for space C2," said Mike Penzo,  director of ground resiliency and analytics at BAE's U.S. subsidiary.
BAE aims to produce an enterprise software architecture that will facilitate the construction of a testbed facility dubbed Space Enterprise Analysis Capability.
SEAC will work to model current and future space situational awareness tools as well as generate scenario-based exercises for the demonstration of space C2 systems against emerging threats.
Hallmark is designed to also support live data feeds from multiple sources and protect data for varying classification levels, BAE added.
The company also plans conduct exercises at SEAC to gather metrics for Hallmark's cognitive evaluation team as well as identify technologies for potential use by the Joint Space Operations Center and the National Space Defense Center.