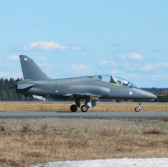 BAE Systems has partnered with an aircraft maintenance, repair and overhaul company based in the United Arab Emirates to provide support services for the country's fleet of Hawk trainer planes.
The British defense company said Wednesday its partnership with the Advanced Military Maintenance Repair and Overhaul Center will cover the provision of spares, repairs and engineering services for Hawk MK61, MK102 and MK63 trainers through 2020.
Mike Swales, director of BAE's Hawk International Program, said the agreement expands collaborative work between the two companies on aircraft maintenance and creates a platform for continued assistance to the UAE Hawk fleet.
BAE provides engineering services and uses information technology to support Hawk customers worldwide through the company's Support Service Hub.
AMMROC is a joint venture of Emirates Defence Industries Company, Lockheed Martin and Lockheed's  Sikorsky subsidiary.