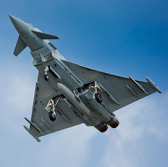 BAE Systems and Asco Industries have agreed to partner across the areas of composite materials, additive layer manufacturing, advanced manufacturing and engineering.
Both companies will also pursue potential airframe assembly and manufacturing work on Eurofighter Typhoon should Belgium pick the aircraft to replace its fleet of F-15 fighter jets, BAE said Nov. 21.
BAE and Asco signed the agreement in Flanders, Belgium, in the presence of Harriett Baldwin, U.K. defense minister for procurement.
Anthony Gregory, campaign director for BAE"™s Belgian arm, said the agreement would help expand the partnership between the two firms and support Belgium"™s aerospace and defense capabilities.
The agreement is part of the European companies"™ push to offer the Eurofighter Typhoon aircraft as a replacement for Belgium"™s fleet of 54 F-15s.
The partnership with Asco came a month after a consortium of BAE, Leonardo, Airbus"™ defense and space business and MBDA pledged to support the establishment of two national innovation centers in Belgium to explore additive manufacturing techniques in support of the country"™s A&D sector.